Name: Steven Clark
Hero Title: Liberator (Formerly known as Annihilator and Hope)
Abilities: Everything Jacob has. Angel like speed and durability
Weapons: Taser programmed into his gloves, grapple rope attached to belt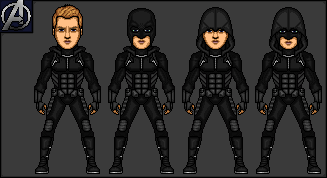 Gender: Male
Race: Part Human, Part artificial angel
Affiliation (Teams): Avengers, S.H.I.E.L.D (Former agent), Heavenly Three (Graduate)
Shield Code-Name: "Forgotten Savior"
Birthplace: Manhattan, New York
Birth Date: 4/23/2009 (Clone chamber emerge time)
Age: 21 in regular years; 5 in clone years
Personality: Cocky, rude, arrogant. Recently changed into a pure soul but still has his old traits.
Fatal Flaw: Too much on his mind, his swift changes in hero titles and personalities have made his mind boggle back and forth.
Face Claim (Optional): Jason Dolley
Relationship Status: Tiera Ambrose (Girlfriend)
Theme Song:
(Former) Annihilator Theme Song:
Slim Pickens does the right thing and he rides the bomb to hell
by
The Offspring
(Former) Hope Theme Song:
The Last Fight
by
Bullet for my Valentine
(Current) Liberator Theme Song:
Soldiers
by
Otherwise
Backstory: (coming soon)